Mandar un correo electrónico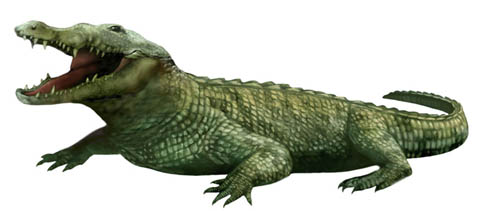 | | |
| --- | --- |
| Royal Tyrrell Museum, Deinosuchus detail | |

Cliente:
Royal Tyrrell Museum of Paleontology
Ver más imágenes para Royal Tyrrell Museum of Paleontology

Derechos de autor:
© 2007 by Karen Carr and Karen Carr Studio, Inc.

Imagen:
Deinosuchus
Ver más imágenes para Marine animals and fish

Era Geológica:
Cretaceous

Description:
Deinosuchus was a large alligator-like animal from the Cretaceous, whose head was six feet or more in length. The shape and proportion of Deinosuchus' head makes scientists believe it was adept at catching animals both under water and at water's edge. Its fossilized remains have been found both in saltwater and freshwater deposits.

Todas las imágenes, derechos reservados, por Karen Carr.
Todos los derechos reservados.
Las imágenes no pueden ser usadas sin permiso.
Las descripciones y otros textos en estas páginas representan los animales, escenas, personas o eventos bajo la mejor comprensión del artista. Cualquier error en los textos son culpa del artista (y su webmaster) y no de nuestros clientes.
Search Site:
Address:
Karen Carr Studio, Inc.
13 Fleming Tank Road
Silver City, NM 88061
Phone:
575-388-4505