Mandar un correo electrónico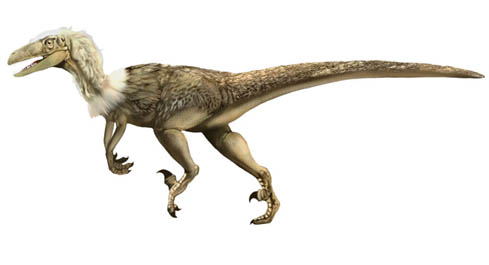 | | |
| --- | --- |
| Royal Tyrrell Museum, Velociraptor with feathers | |

Cliente:
Royal Tyrrell Museum of Paleontology
Ver más imágenes para Royal Tyrrell Museum of Paleontology

Derechos de autor:
© 2007 by Karen Carr and Karen Carr Studio, Inc.

Imagen:
Velociraptor
Ver más imágenes para Dinosaurs and ancient life

Era Geológica:
Cretaceous

Description:
"Fossils of dromaeosaurids more primitive than Velociraptor are known to have had feathers covering their bodies, and fully-developed, feathered wings. In light of the fact that the ancestors of Velociraptor were feathered and possibly capable of flight, it is most likely that Velociraptor bore feathers too, since even flightless birds today retain most of their feathers. While there is as yet no direct fossil evidence to confirm that Velociraptor had feathers, there is no reason to suspect it of being an exception." Read more.

Todas las imágenes, derechos reservados, por Karen Carr.
Todos los derechos reservados.
Las imágenes no pueden ser usadas sin permiso.
Las descripciones y otros textos en estas páginas representan los animales, escenas, personas o eventos bajo la mejor comprensión del artista. Cualquier error en los textos son culpa del artista (y su webmaster) y no de nuestros clientes.
Search Site:
Address:
Karen Carr Studio, Inc.
13 Fleming Tank Road
Silver City, NM 88061
Phone:
575-388-4505