Mandar un correo electrónico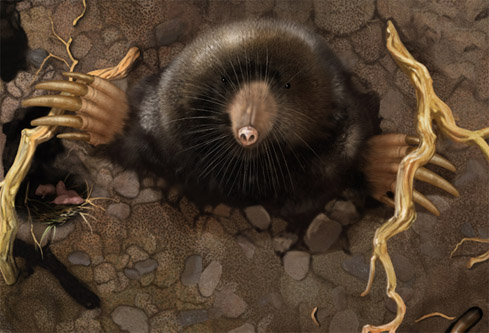 | | |
| --- | --- |
| Audubon Insectarium Wall Three Mole Detail | |

Cliente:
Audubon Institute Insectarium
Ver más imágenes para Audubon Institute Insectarium

Derechos de autor:
© 2007 by Karen Carr and Karen Carr Studio, Inc.

Imagen:
This detail shows a portion of the Audubon Insectarium's Wall Three... but don't look for this mole in the Insectarium: There's a door in the Insectarium wall where this critter sits. Karen added the mole for posters created by the Insectarium.
Ver más imágenes para Mammals and other animals

Era Geológica:
Modern period

Description:
Often a nightmare in the garden, moles are nevertheless fascinating little mammals who spend much of their life out of sight and underfoot.

Todas las imágenes, derechos reservados, por Karen Carr.
Todos los derechos reservados.
Las imágenes no pueden ser usadas sin permiso.
Las descripciones y otros textos en estas páginas representan los animales, escenas, personas o eventos bajo la mejor comprensión del artista. Cualquier error en los textos son culpa del artista (y su webmaster) y no de nuestros clientes.
Search Site:
Address:
Karen Carr Studio, Inc.
13 Fleming Tank Road
Silver City, NM 88061
Phone:
575-388-4505