Mandar un correo electrónico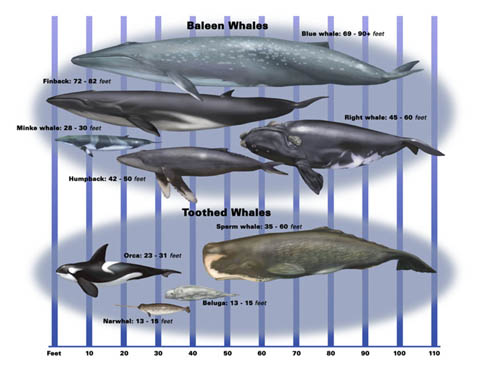 | | |
| --- | --- |
| Baleen and toothed whales | |

Cliente:
Smithsonian National Museum of Natural History: Sant Oceans Hall
Ver más imágenes para Smithsonian National Museum of Natural History: Sant Oceans Hall

Derechos de autor:
© 2007 by Karen Carr and Karen Carr Studio, Inc.

Imagen:
Finback, Minke, Blue, Right, Humpback and Sperm whales, orcas, narwhal and beluga whale
Ver más imágenes para Marine animals and fish

Era Geológica:
Modern period

Description:
Baleen whales are sometimes called "mustached whales." The name refers to the series of baleen plates in gums along each side of the whale's upper jaw. They are triangular and arranged like teeth in a comb. The inner edge is frayed, and the fringes form a dense mat inside the mouth. Baleen is made mostly of keratin, a substance found in our fingernails and hair.

There are about 65 different species of toothed whales. Toothed whales, including all dolphins and porpoises, have teeth, only one blowhole (baleen whales have two) and are generally smaller than most baleen whales. The only toothed whale longer than 13 metres is the sperm whale (they can measure up to 18 metres). Toothed whales are hunters. They find, chase and then capture prey (fish, squid, crabs, starfish, and other ocean creatures) with their teeth. Once captured, the prey is swallowed whole.
Learn more!

Todas las imágenes, derechos reservados, por Karen Carr.
Todos los derechos reservados.
Las imágenes no pueden ser usadas sin permiso.
Las descripciones y otros textos en estas páginas representan los animales, escenas, personas o eventos bajo la mejor comprensión del artista. Cualquier error en los textos son culpa del artista (y su webmaster) y no de nuestros clientes.
Search Site:
Address:
Karen Carr Studio, Inc.
13 Fleming Tank Road
Silver City, NM 88061
Phone:
575-388-4505