Mandar un correo electrónico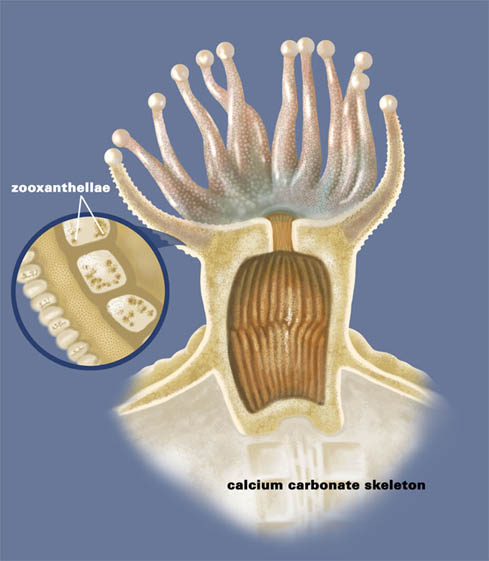 Cliente:
Smithsonian National Museum of Natural History: Sant Oceans Hall
Ver más imágenes para Smithsonian National Museum of Natural History: Sant Oceans Hall

Derechos de autor:
© 2007 by Karen Carr and Karen Carr Studio, Inc.

Imagen:
Coral Polyp
Ver más imágenes para Marine animals and fish

Era Geológica:
Modern period

Did you know?
Corals are marine organisms from the class Anthozoa and exist as small sea anemone–like polyps, typically in colonies of many identical individuals. The group includes the important reef builders that are found in tropical oceans, which secrete calcium carbonate to form a hard skeleton.

A coral "head", commonly perceived to be a single organism, is formed from thousands of individual but genetically identical polyps, each polyp only a few millimeters in diameter. Over thousands of generations, the polyps lay down a skeleton that is characteristic of their species. A head of coral grows by asexual reproduction of the individual polyps. Corals also breed sexually by spawning, with corals of the same species releasing gametes simultaneously over a period of one to several nights around a full moon. Learn more!

Todas las imágenes, derechos reservados, por Karen Carr.
Todos los derechos reservados.
Las imágenes no pueden ser usadas sin permiso.
Las descripciones y otros textos en estas páginas representan los animales, escenas, personas o eventos bajo la mejor comprensión del artista. Cualquier error en los textos son culpa del artista (y su webmaster) y no de nuestros clientes.
Search Site:
Address:
Karen Carr Studio, Inc.
13 Fleming Tank Road
Silver City, NM 88061
Phone:
575-388-4505