Mandar un correo electrónico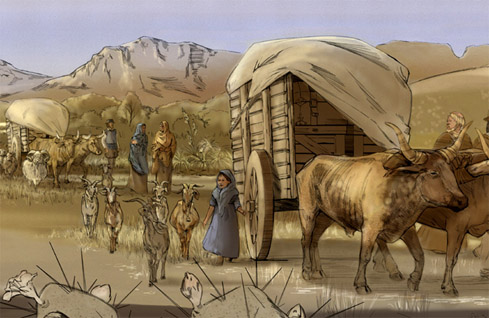 | | |
| --- | --- |
| Onate's Column enters New Mexico, image detail | |

Cliente:
New Mexico Palace of the Governors
Ver más imágenes para New Mexico Palace of the Governors

Derechos de autor:
© 2007 by Karen Carr and Karen Carr Studio, Inc.

Imagen:
Settlers accompanying Don Juan de Oñate Salazar entering the New Spain province of New Mexico
Ver más imágenes para People and history

Era Geológica:
Modern period

Description:
Oñate's arrival in the late 1590s created immediate conflict with the natives already living in the area that would become New Mexico. At the same time, Oñate and his column of soldiers and settlers brought many of the animals and agricultural resources that would become important to settlers and natives alike.

Oñate is thought to have brought churro sheep, shown at the left in this image detail, which were immediately prized by natives and are still raised and prized by Navajo, Hispanic and Anglo residents of New Mexico. Goats and sturdy Spanish cattle were also well suited to the limited resources of the arid southwest, and are still found throughout New Mexico.

Todas las imágenes, derechos reservados, por Karen Carr.
Todos los derechos reservados.
Las imágenes no pueden ser usadas sin permiso.
Las descripciones y otros textos en estas páginas representan los animales, escenas, personas o eventos bajo la mejor comprensión del artista. Cualquier error en los textos son culpa del artista (y su webmaster) y no de nuestros clientes.
Search Site:
Address:
Karen Carr Studio, Inc.
13 Fleming Tank Road
Silver City, NM 88061
Phone:
575-388-4505