Mandar un correo electrónico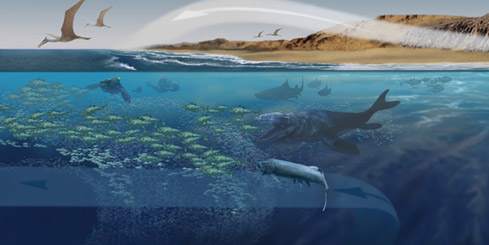 | | |
| --- | --- |
| Angolan Oceanic Upwelling Community | |

Cliente:
Projecto PaleoAngola
Ver más imágenes para Projecto PaleoAngola

Derechos de autor:
© 2007 by Karen Carr and Karen Carr Studio, Inc.

Imagen:
Cretaceous mosasaurs, sharks, ammonites, pterosaurs, fish and other animals from the South Atlantic, off the coast of what is now Angola.
Ver más imágenes para Marine animals and fish

Era Geológica:
Cretaceous

Description:
The underlying mechanisms driving the incredible marine productivity seen today in Angola was established early in the geological history of the coastal areas. Driven by coastal winds, currents from the ocean floor call upwellings brought cold nutrient-rich water to the surface, feeding plankton that is the foundation of the food chain. As it is today, the upwelling areas in the ancient sea were full of shellfish, sea urchins, snails, crabs and small fish, providing nutrition for larger fish and animals. High in the ancient food chain were the reigning predators of the time, the mosasaurs and plesiosaurs.

Todas las imágenes, derechos reservados, por Karen Carr.
Todos los derechos reservados.
Las imágenes no pueden ser usadas sin permiso.
Las descripciones y otros textos en estas páginas representan los animales, escenas, personas o eventos bajo la mejor comprensión del artista. Cualquier error en los textos son culpa del artista (y su webmaster) y no de nuestros clientes.
Search Site:
Address:
Karen Carr Studio, Inc.
13 Fleming Tank Road
Silver City, NM 88061
Phone:
575-388-4505